---
The Cambridge Bob Dylan Society's
25th Anniversary Celebration
For 25 years The Cambridge Bob Dylan Society has been meeting in Cambridge. We've had thousands of Dylan fans through our doors over the years - many of them travelling long distances to get to our meetings. We've had top singers and performers entertaining us and famous authors talking about their latest works. And now - a quarter of a century later - we want to celebrate all this with a bit of a do at one of our famous local venues. So on
Friday 29th May
at 7pm prompt
Holiday Inn, Cambridge
we will have one hell of a bash - with special guests Carolyn Hester, plus daughters, and Dylanesque - and will bop till late. You're all welcome.

Tickets £12.50
(£15 at the door)
Tickets available from Keith Agar - send cheques (payable to The Cambridge Bob Dylan Society) to:
Keith Agar, 2 Horn Close, Oakham, Rutland LE15 6FE
Accommodation is available at: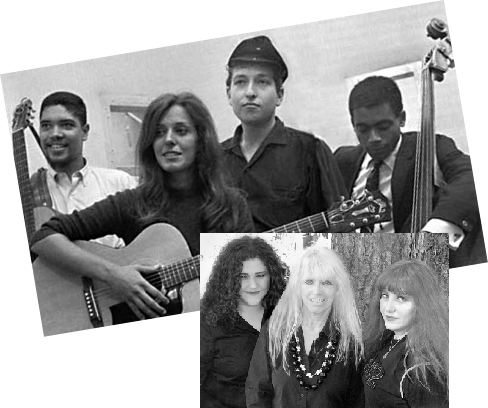 Carolyn Hester was one of the first people to bring Bob Dylan to a recording studio - it was in fact through Carolyn that Dylan first met producer John Hammond, who subsequently signed him to Columbia Records. In Cambridge she'll be singing ballads old and new, Dylan songs as well as some of her own. There'll also be a long chat with our very own Chris Cooper, who will probe deep and reveal everything there is to know about Carolyn - nothing will be left on the cutting room floor.
For more information on Carolyn go to her website.
●Pictured with Carolyn are (from left) Bruce Langhorne, Bob Dylan and Bill Lee (film-maker Spike Lee's father), in 1961 in New York City, about to record "I'll Fly Away". Inset shows Carolyn today with her daughters Amy and Karla Blume.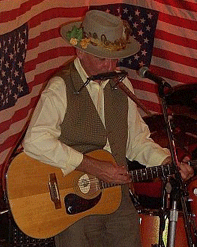 Dylanesque are THE Bob Dylan tribute band - UK based and a veritable Dylan jukebox, who always play an interesting mix of Dylan classics and near classics. They're always firm favourites with our Cambridge meetings.
Further details about Dylanesque can be found at the band's website.

●Pictured is Michael Crimmins of Dylanesque, TCBDS friend and supporter for many a year.
Dylan video, Dylan audio - and a room full of Dylan fans
---

Regular meetings of The Cambridge Bob Dylan Society are held at The Red Lion public house,
33 High Street, Grantchester, Cambridgeshire CB3 9NF
For further details click here

---